The church was started in January of 1927 by Ida Olson and Louise Arnold. The original name of the church was "The Open Door Mission" and the members met in a building on Main Street near the former Fairmont Dairy in Marinette, WI. The fledging church moved a number of times meeting in different rented buildings.
In October of 1937, the Rev. Hugo Olson and his wife, Hazel, assumed the pastorate. On November 14, 1938 the church became affiliated with the "Assemblies of God". In 1939 the congregation purchased the former Danish Norwegian Methodist Church building on the corner of Shore Dr. and Carney Blvd. They had been renting since 1933. On January 15, 1948, with Rev. Olson still as pastor, the church reached General Council status.
In July of 1956, Evangelist Morris Hayes was voted in as the pastor, shortly after Rev. James Hamann left. A new building was needed and ground-breaking took place in April of 1957 at 3036 Carney Ave. It was dedicated on November 4, 1957, under the new name of Calvary Temple Assembly of God. An addition was built on in 1985-86 and the Fellowship Hall was built in 1999 and dedicated on May 21, 2000.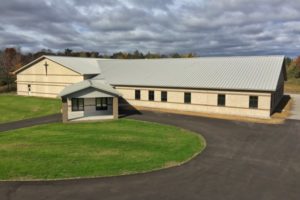 Under the leadership of Rev. Tim Hawthorne, the church purchased land about 1/2 mile west of Marinette along Highway 64 in December of 2012.  Construction of a new facility began in August of 2014 and the 1st service was held on September 17, 2015.  With the move to the new location, the church changed it's name to Calvary Church Assembly of God.  The congregation dedicated the 21,000 square foot building on October 18, 2015 to the glory and honor of God.